Join Us To Make the Digital Advertising Ecosystem Stronger, Safer and More Secure
DV powers performance for the world's largest brands, platforms and publishers. We believe this is important work. Why? Because when an ad-supported ecosystem hums, it preserves a free internet for us all. We're looking for the best and the brightest talent, those who stand for one another and meet challenges with a spirit of ingenuity and invention. If that sounds like you, check out our openings today.
See current openings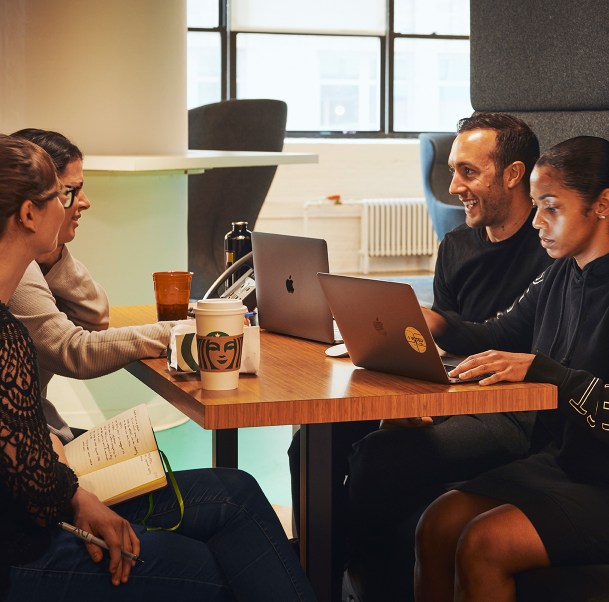 Benefits and Perks
Comprehensive Coverage
Because we want you to stay healthy.
Pension Matching
401(k) or country-specific contributions.
Self-Directed Paid Time Off*
You work hard. Enjoy it.
Tuition Reimbursement
Never stop learning.
Generous Parental and Compassionate Leaves
Putting families first.
Onsite and Virtual Events and Wellness Activities
Team activities, wellness offerings, games and more!
Flexible Lifestyle Spending Account
Gym, fitness class, self-care, or even pet care? You're covered for this and more.
Mental Wellness Days
Take a day off for yourself.
Global Access to Mental Health Resources
Investing in you being your best self.
Hybrid Work Schedule
Making the most of your time.
Peer Nominated Awards
Recognizing DV values in action.
Seasonal Employee Appreciation Gifts
Enjoy summer treats and holiday sweets.
*US Only
Some benefits may be locally adjusted
We're "All In"
Being "all in" means sharing values around what drives success – as individuals, colleagues and partners to our clients.
Passion
We are driven.
Accountability
We do what's right (the right way).
Collaboration
We deliver better together.
Trailblazing
We invent a way.
"All In" Their Own Words
DV employees embody our values in unique and diverse ways – from their commitment to client service to the inventiveness they bring to solving problems. But don't take our word for it – hear from them directly by browsing the cards on the right.
DEE BARNES | DIRECTOR, ADVERTISING SALES
I am so proud to work for a company that "walks the walk." Not only do I feel like my sales skills contribute to DV's goal of "Building A Better Industry," but I also feel that my diverse background, insights and culture are valued. I feel challenged and cherished!
JAAKKO HAARALA | DIRECTOR, SALES (NORDICS)
As a people person, I cannot imagine a better home for me than DV. For a global nomad like myself, speaking with colleagues from Brazil, India, Mexico, Spain, Germany, the UK and the US on a daily basis makes DV an ideal company to work for. Furthermore, our education center, DV Learning, provides world-class training from cultural encounters to sales skills, which has been a tremendous help in the growth of my career.
DANA ZEHAVI | DIRECTOR, HRBP - EMEA TECH & PRODUCT
Coming to work at DV was by far one of the best decisions I've ever made. Challenging myself professionally each day, working with great people worldwide and being able to lead and explore new areas in my profession all the time. Apart from the excellent people, what we do is unique, super interesting and in an extremely large scale.
ATHUL SUDHAKUMAR | ASSOCIATE DIRECTOR, PRODUCT MANAGEMENT
As a Product Manager, I have had the opportunity to partner with key organizations across the industry to resolve technology challenges. The nature of work we do at DV is exciting and each day you get to learn new skills and build products with an incredibly smart and motivated team operating from our offices across the globe.
STEVE MOUGIS | VP, PROGRAMMATIC SALES
DoubleVerify is a special place. It's afforded me career-defining learning opportunities working alongside some of the most talented and fun people in the industry. As the company has grown to amazing new heights, we've continued to attract best-in-class talent and some of the largest brand partners in the world.
LAHAT ABU | SVP ENGINEERING, MEASUREMENT TECHNOLOGY
Every day at DV is full of big things happening all around you. Our work has a massive impact on the digital advertising space, which makes you feel you feel a part of something big. At DV, you are surrounded by driven and smart people. For a lot of people, DV has been a defining step in a successful career.