MEASUREMENT & ANALYTICS
Turn Insights Into Action
Media quality and performance data is only valuable if it's timely, clear and actionable. Media planners and traders must be able to quickly assess campaign performance, troubleshoot issues, and optimize the buy. DV's dashboard and reporting engine make that possible — providing insights and controls that drive results. Download our overview to learn more about how DV Pinnacle® enables you to set up and monitor fraud, viewability and brand safety across all buying platforms — giving you clarity and confidence in your digital investment.
DV Pinnacle®: Unified Service and Analytics Platform

200+
Analytics & Reporting Metrics.
50+
Industry Benchmarks Filters.
You're in Control
DV Pinnacle® is our unified service and analytics platform. Through DV Pinnacle®, advertisers can access quality and performance data across devices and buying platforms, including social — helping to turn insights into action. Plus, DV provides its proprietary Authentic Ad™ metric that shows which ads were seen, by a real person, in a brand-safe environment and in the intended geography — offering a definitive measure of quality across campaigns.
Easy Set-up, Intuitive Presentation
Setting up your profile in DV Pinnacle® is simple and intuitive. Easy-to-interpret dashboards provide a snapshot of key quality and performance metrics, while in-depth reporting facilitates ongoing evaluation and optimization. DV even provides industry benchmarks, so you can compare your campaign's performance with that of your peers.
Instant Knowledge = Power
DV Pinnacle® provides transparency into all aspects of your campaign's quality and performance, down to the impression level. The DV Authentic Ad™ metric gives you an immediate look at how you're doing across campaigns, platforms, devices, and formats. Better yet: DV is the only provider to offer unique insights for programmatic buyers, with a dashboard that shows real-time DSP auction and actual domain data that can help you troubleshoot issues like domain spoofing.

Turn Insights into Action
DV Pinnacle® is the industry's first unified service and analytics platform,
powering meaningful insights to maximize return on your digital investment.

Measure the DV Authentic Ad™ Everywhere
Use the DV Authentic Ad™ as your defining KPI for quality — maintaining standards across campaigns, platforms, and formats.
Comprehensive Brand Safety and Suitability Controls in One Place
Multiple buying platforms? No problem. Align pre- and post-bid brand safety and suitability settings universally with a single set of controls.
Custom Reports on Your Schedule
Access standard reports or build custom ones based on more than 200 data points, flagging critical opportunities for optimization.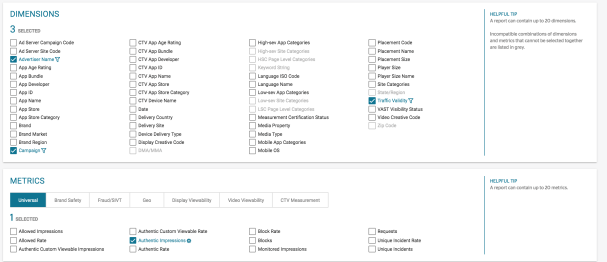 The Definitive Measure of Quality
The DV Authentic Ad™ is a proprietary, MRC-accredited metric that ensures media quality. To be counted as Authentic, an ad must be fully viewed, by a real person, in a brand suitable environment, within the intended geography. DV is the only company accredited to measure and de-duplicate ad quality in this manner — enabling brands to use the DV Authentic Ad™ count as a defining, holistic KPI for campaign effectiveness.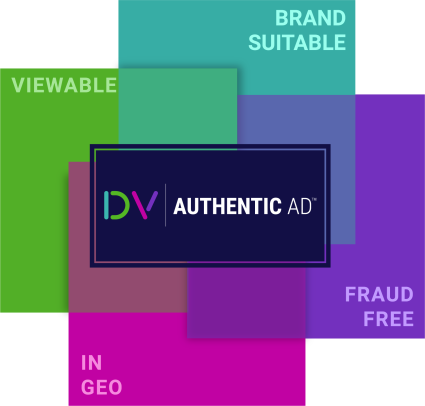 Accreditation
DV is accredited for our DV Impression Quality services, including fraud, viewability and brand safety and suitability.
Let's Talk
Partnership starts with a conversation. Whether you have a question about our services, or would like to get a demo of our platform, we're happy to connect.
We're Always Here for You!