Driving Campaign Performance in the Age of AI and Attention
AI is here in full force, permeating all aspects of our lives from content creation to big data. It is definitely a buzzword in the industry, but how can advertisers truly leverage AI to optimize campaign performance and drive ROI?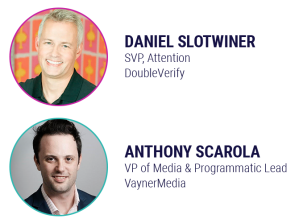 In this fireside chat, DoubleVerify's Daniel Slotwiner, SVP Attention, and Anthony Scarola, VP of Media & Programmatic Lead at VaynerMedia, will explore the power of AI when paired with attention metrics and how DV's recent acquisition of Scibids, a global leader in AI technology, provides programmatic advertisers with advanced optimization capabilities to improve KPIs.
Register here.
Reach out to Events@DoubleVerify.com to connect with us.