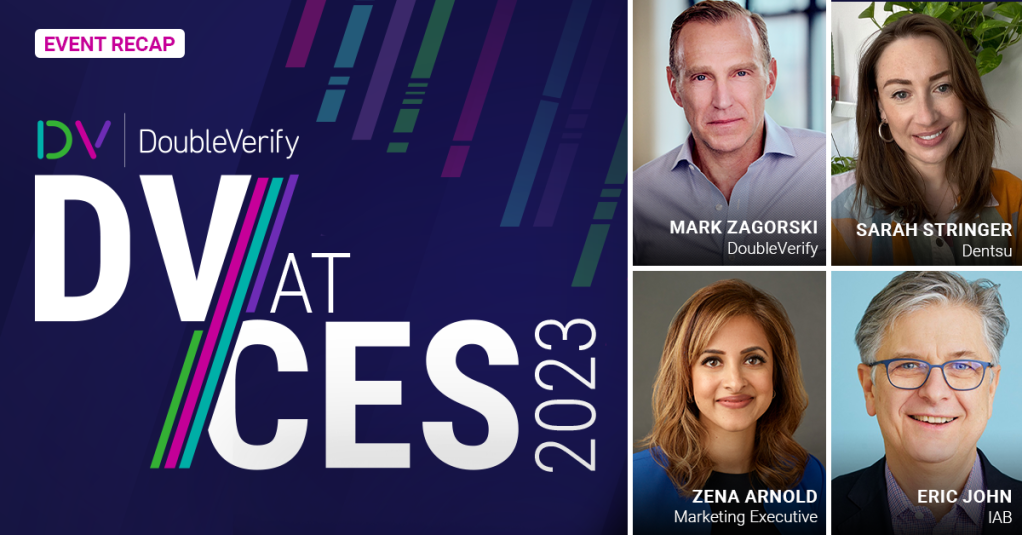 Attention has always been at the heart of advertising. But capturing meaningful attention metrics has become increasingly challenging — the digital culture is constantly evolving, and consumers experience a wide variety and high volume of content daily. The media industry is adapting, though. Privacy-friendly attention signals that do not rely on cookies are transforming the way advertisers can monitor and predict campaign performance and drive brand outcomes.
DoubleVerify's CEO Mark Zargorski explored the industry's ability to measure attention during a lively panel discussion at CES 2023. He was joined by industry experts Zena Arnold, Eric John and Sarah Stringer. Below, we'll outline their discussion about common attention measurement myths.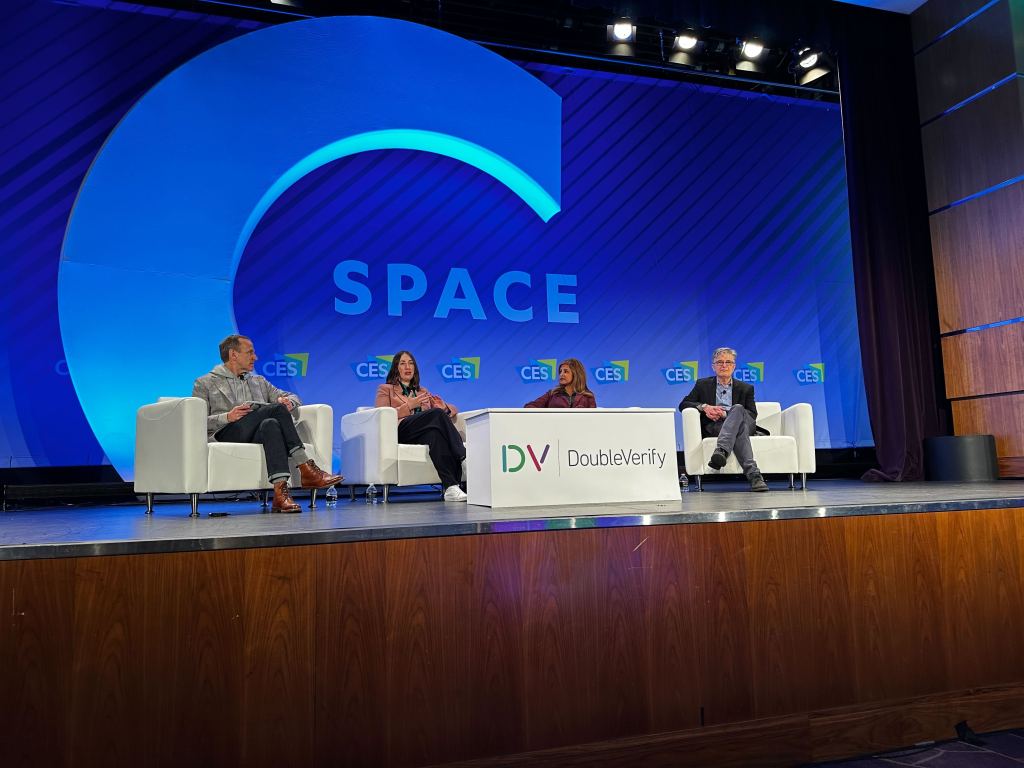 Myth #1: Attention can be measured as a simple, single metric.
Attention is a complex, non-binary concept, and measurement must cover a wide variety of signals to be accurate. "DV has found that the most efficient way to measure user attention is to consider ad exposure and user engagement, both of which can be harnessed to maximize diverse campaign objectives," stated DoubleVerify's CEO Mark Zagorski. Exposure evaluates an ad's entire presentation, quantifying its intensity and prominence through metrics like viewable time, share of screen (how much space an ad gets on the screen), video presentation and audibility. Engagement analyzes key user-initiated events that occur while the ad creative is displayed, including user touches, screen orientation, video playback and audio control interactions.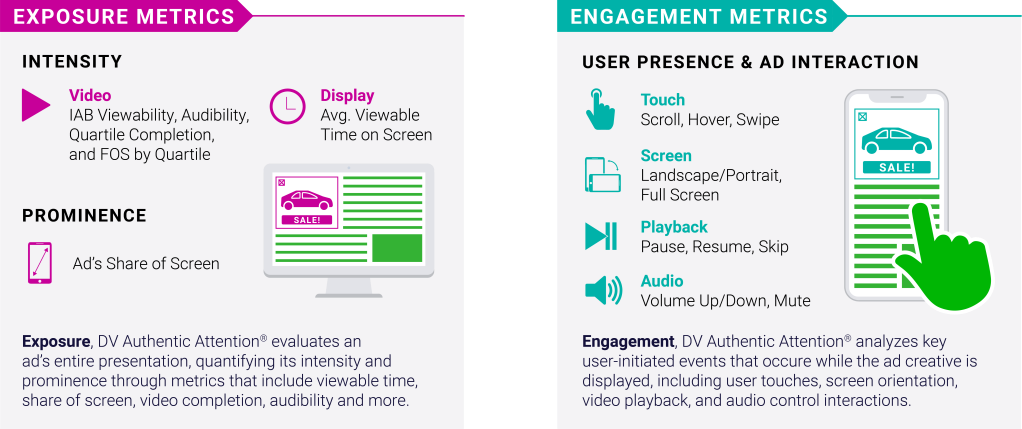 "Attention metrics can be leveraged to understand what pages/placements and what creative are driving results, and also who is paying attention – or who isn't," added Zena Arnold, a marketing executive.
Myth #2: Attention is not a viable media currency that advertisers can transact on in real time.
Attention metrics are rapidly gaining momentum, and traditional metrics are no longer enough to help advertisers measure performance. Viewability is essential in creating a foundation of quality, but it doesn't provide insight into whether an ad actually made an impact. "Attention metrics open up a new landscape of measurement into the mind," said Eric John, Vice President, Media Center at IAB. "Viewability provides an opportunity for a viewer to see an ad — but did the viewer actually digest and interpret the content?"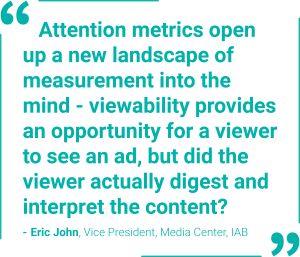 DoubleVerify recently received an MRC accreditation for its DV Authentic Attention® metrics, marking the first time the MRC reviewed DoubleVerify's advanced analytics beyond the viewability standard and into viewable impression measurement performance. "Earning MRC accreditation for DV Authentic Attention®, in an environment where ad dollars are increasingly scrutinized for accountability, advances our commitment to develop independent media quality and performance solutions that drive campaign outcomes for our global brand customers," added Mark.
Myth #3: Attention has not been correlated with campaign performance.
Attention is a pivotal indicator of campaign performance. "We wouldn't have started this journey if we didn't feel that attention is going to equate with a business outcome. And we have seen that with the work from the past 5 years; attention drives outcomes 3x better than viewability alone," Sarah Stringer, Executive Vice President, Head of US Media Partnerships at Dentsu said. DoubleVerify consistently proves through real client tests that attention metrics directly correlate with both brand awareness and direct response KPIs. Below are some examples of DV Authentic Attention® in action.
Among their primary target audience, Mondelez International found that high-exposure campaign impressions correlated with an increase in brand favorability, overall consideration and purchase intent by 9, 8 and 5 percentage points, respectively.
Vodafone Germany identified that high-engagement ads — those with an engagement index of 100 or greater — had over 2.5 times higher qualified traffic and sales conversion rates, compared to low-engagement ads.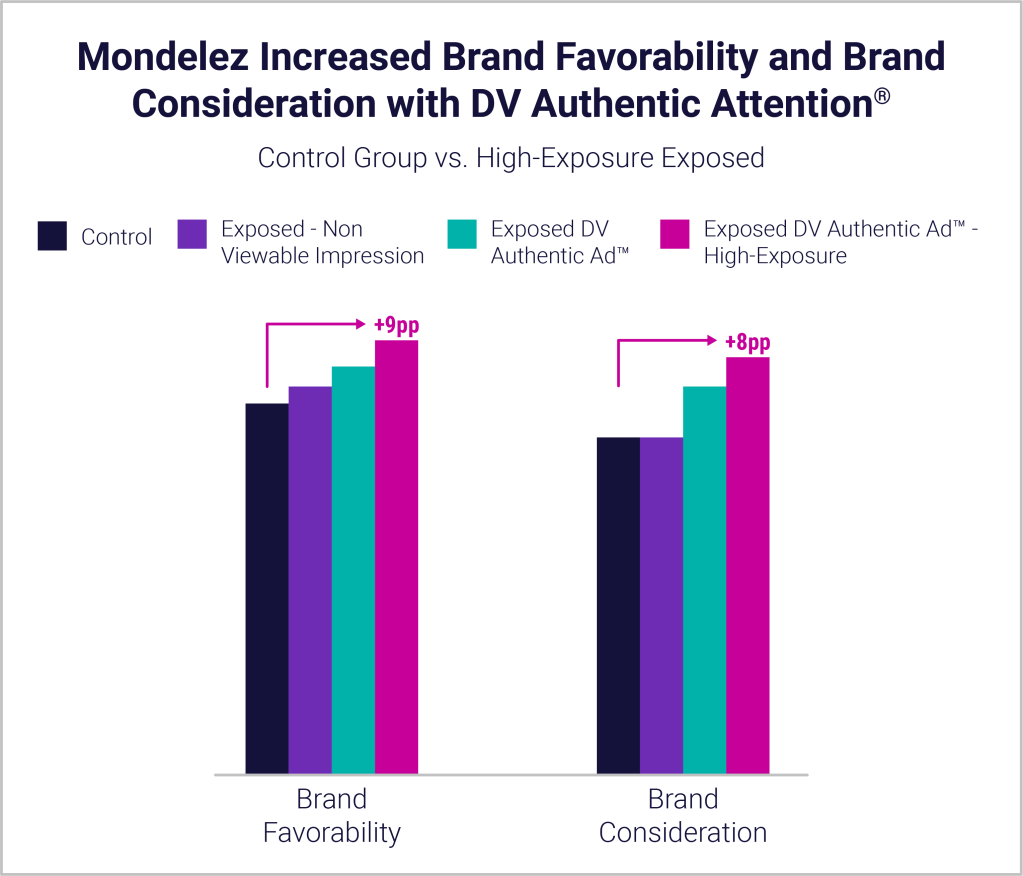 More brands are adopting attention measurement to optimize their campaigns. Attention's impact goes beyond simply benefitting brands. "The entire industry is excited about attention, including brands, agencies and partners," Stringer commented. "And each can benefit in different ways by maximizing outcomes and proving their value."
To learn more about getting started with DV Authentic Attention®, contact sales@doubleverify.com.