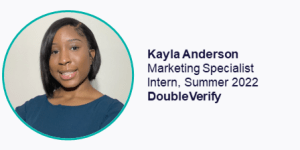 Dear Future Intern, 
If you're reading this, you've already heard about the benefits of a professional internship. Whether advised by your teacher, counselor, mom or persistent lab partner, you likely even have your eye on the university job board. And lately, every time you get on LinkedIn, you seem to scroll past yet another acquaintance announcing their big internship opportunity.  So — you might be wondering — what's all the fuss?  
The internship process can be daunting. Having gone through it myself, I get it. But the truth is, it's worth it. An internship positions you for long-term success. It expands your network and gives you a chance to experience your interests in the real world. An internship can connect you with people that will ultimately recommend you for, or even offer you, a full-time job.   
Whether you've already secured an internship or are still looking, the DoubleVerify Class of 2022 can help by sharing our experiences and offering bits of advice.
As the marketing specialist intern at DoubleVerify in the summer of 2022, I gained immeasurable knowledge and skills. Over the course of my 10-week internship, I jumped straight into meaningful projects as part of the marketing team. I designed social posts for the DV Authentic Attention® Snapshot Launch, wrote a blog post and learned about data analytics. 
Ad tech is an exciting industry that's growing quickly and has attracted a wide range of dynamic new talent. From software engineering and product management to marketing and sales — DoubleVerify has a variety of career paths. As part of a cohort of 14 other interns across various departments, I saw first-hand just how many different paths there are in ad tech. I asked a few of my colleagues to share their DoubleVerify internship experience. Here's what we learned! 


The first day is always a hard one. Most of our intern cohort was nervous about getting up to speed. Ad tech is complex and fast-paced, so the initial wave of information was a lot. But DoubleVerify's thorough onboarding process and one-on-one meetings with managers put our minds at ease.


Through impactful projects, we gained first-hand industry knowledge and contributed ideas that were actually implemented at DoubleVerify. DoubleVerify employees, with their diverse backgrounds, presented a supportive learning environment where we could build essential soft skills, such as adaptability, communication, time management and collaboration.


DoubleVerify's hybrid working model was ideal because it allowed our cohort to enjoy the best of both worlds — the ability to have flexibility, while still gaining real-world experience in an office setting.



After shutting down for the day, we got to explore our hobbies and interests. With New York City as our summer playground, there was never a shortage of fun activities and new people to meet. Some of us enjoyed a chill day of cooking and spending quality time with loved ones. Others preferred staying active and joining club sports.

The DoubleVerify managers and staff were incredibly supportive of us as interns. We left with a great deal of knowledge and skills that we'll carry with us as we enter the workforce. Beyond our professional development, we also gained unexpected friendships and learned more about ourselves. Our internship at DoubleVerify offered a unique way to explore our interests and strengths.


DoubleVerify truly embodies what it means to be "All In." We've seen this in the way DoubleVerify fosters a collaborative work culture and builds inventive solutions that make the digital advertising ecosystem stronger, safer and more secure.


From all of us, we wish you the best of luck as you search for the best internship. We hope your experience is as fulfilling as ours has been.
Sincerely, 
The DoubleVerify Internship Class of 2022
Continue to check for DV career updates to access job and internship opportunities. 
Note: Intern quotes were edited and condensed for clarity.