Hoy en día, las marcas tienen acceso a más datos que nunca, desde la calidad del entorno en el que se publica un anuncio hasta la atención que un anuncio puede captar. ¿Cómo pueden las marcas utilizar estos datos para optimizar la estrategia de medios e impulsar sus resultados?
En nuestra sesión de AWLATAM el martes, 31 de octubre a las 10:00 a.m. CST, Armando Rodríguez, RVP LATAM, se unirá a un panel de expertos de la industria para hablar sobre cómo los datos y la inteligencia artificial están transformando la industria y las nuevas posibilidades que esto abre para que las marcas impulsen resultados reales, significativos y mensurables. DV y otros líderes de la industria discutirán:
Cómo priorizar los conjuntos de datos que guían las decisiones

El surgimiento de la IA como tecnología transformadora
La evolución de la optimización: de manual a automatizada
Oradores/Speakers: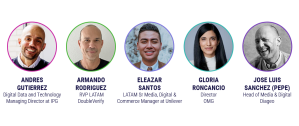 Registrar aquí.
Envíe un correo electrónico a Events@DoubleVerify.com para contactarnos.
______________________________________________________________________________________
How The Combination of Attention And AI Can Become Proxies For Driving Advertiser Outcomes
Today brands have access to more data than ever have before — from the quality of the environment in which an ad is served to the attention an ad is able to capture. How can brands use this data to optimize media strategy and make every dollar count?
In our AWLATAM session on Tuesday, October 31st at 10:00am CST, Armando Rodríguez, RVP LATAM, will join a panel of industry experts to talk about how data and AI are transforming the industry, and the new possibilities this opens for brands to drive real, meaningful, and measurable outcomes. DV and other industry leaders will discuss:
Prioritizing the datasets that drive decisions
The emergence of AI as a transformative technology
The evolution of optimization – from manual to automated
Register here.
Reach out to Events@DoubleVerify.com to connect with us.