Each year, DMEXCO serves as a premier event for key players in digital, marketing, and innovation. This year, DMEXCO will virtually bring together industry leaders, marketing and media professionals around the world through informative seminars, debates, and expositions outlining the future of the digital economy and driving market value. And, once again, we're thrilled to be a part of it!
Join DV for these sessions at DMEXCO on September 23-24, 2020.
_______________________________________________________________________________________
Unleashing the $166.3 Billion Opportunity: Shifting Linear TV Buyers to CTV
There's a better way to harness sight, sound, and motion on the living room's biggest screen. We predict that the massive balloon of spend on linear TV will shift to CTV because of its superior addressability and accountability.
Join Mark Zagorski, CEO of DoubleVerify and industry leader in the CTV space with over 20 years' experience in digital advertising and technology, as he discusses what it takes to build quality and trust in this burgeoning channel. From the mechanics of ad fraud, to the intricacies of brand safety, get a clear understanding of where we are now with measurement on CTV, and what marketers should push for as they demand clarity and confidence in their CTV investment.
Date: September 23, 2020
Time: 2:31 – 2:49pm CEST
Speaker:
_______________________________________________________________________________________
Understanding Ad Measurement in 2020: Cookies, Coronavirus and Context
Watch the recording

here.
The volatility of 2020 has undoubtedly changed the way in which consumers behave.  As a result, many advertisers have been forced to pivot media strategies in order to drive consistent performance. Even with stricter privacy regulations in place and the move by most major browsers to sunset third-party trackers, advertisers have found innovative ways to navigate the current digital ecosystem through research and data.  
Drawing on unique insights from DV's research of more than 10,000 consumers globally, this session will offer inspiration for marketers seeking to evolve strategies and drive performance in light of a world transformed. We will offer a snapshot of our industry's new normal and offer advice on how context can be integrated as the guiding principle for marketers' navigating measurement and media quality in this new era. 
Date: September 23, 2020
Time: 3:00 – 3:30pm CEST
Speakers:

_______________________________________________________________________________________
How Brands in APAC Should Approach Brand Safety in Digital Advertising
Brand suitability is paramount for digital advertisers as they seek to reach consumers across trusted publisher sites.
But no one size fits all.
Brand suitability varies by region, brand, and even line of business. Media verification in APAC is nascent, though it is starting to gain momentum, and brand suitability measures are in the process of being adopted and refined. However, advertisers need to get to know their brand safety toolkits. For example, while keyword blocking does play a role, it shouldn't be the primary line of defense, especially for brands trying to optimize precision and scale, and ensure their ads appear on trusted news sites. So how do brands balance their desire to reach consumers effectively at scale while not being placed next to unsuitable content?
This session will address:
Unique challenges such as cultural and language nuances that brands in APAC face in ensuring their digital advertising appears in brand-safe environments.
Current state of the industry in APAC
Best practices when adopting brand suitability strategies amid emerging news cycles
How the implementation of the right tools can help advertisers increase campaign efficiency and effectiveness.
Date: September 24, 2020
Time: 10:00 – 10:30am CEST
Speakers: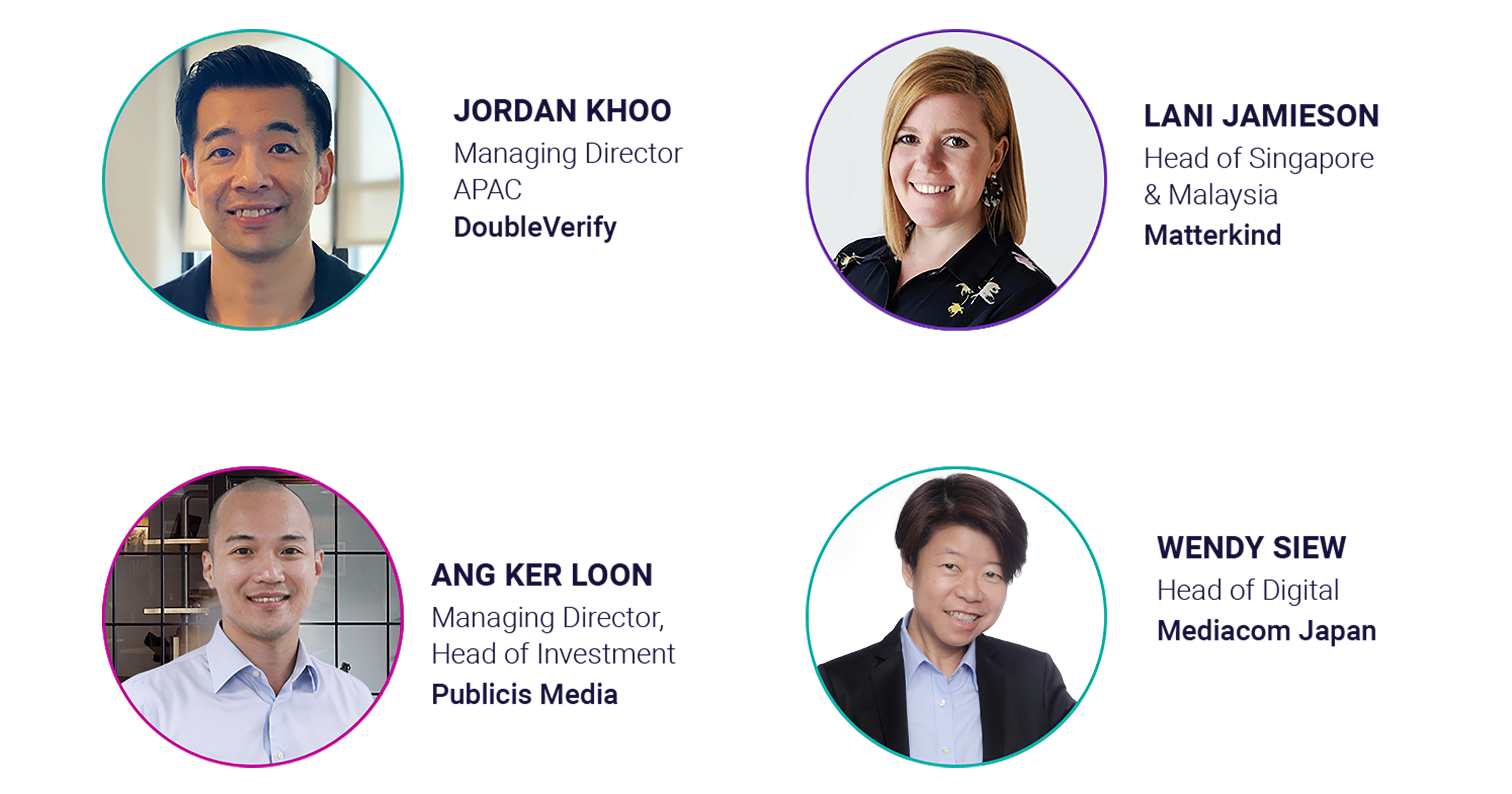 _______________________________________________________________________________________
Privacy and Performance Don't Have To Be at Odds — New Frontiers of Performance Measurement
Given the stricter privacy regulations and deprecation of third-party cookies by most major web browsers, including Google Chrome, the $333 billion worldwide digital advertising industry is facing its share of challenges, especially when it comes to measurement and performance. Because of this, brands are adapting strategies to find new and innovative ways to engage their audiences in the most impactful and efficient way. In this session, we'll explore how to drive performance with quality, privacy-friendly data. We'll also touch on what metrics advertisers should focus on, and what the future of targeting and measurement looks like.
Date: September 24, 2020
Time: 4:35 – 5:05pm CEST
Speaker:


_______________________________________________________________________________________
Fighting Adtech Gravity: How Publishers Can Generate Yield and Combat Complexity
In order to drive a more successful Adtech industry we must foster a symbiotic balance between publishers and advertisers, where both sides generate revenue and efficiency through data and transparency. Unfortunately, in a constantly changing ecosystem where new technology gravitates towards advertiser needs, publishers are often forced to be reactive and adapt through siloed point solutions.
As data and technology continue to scale, complexity will be a constant issue for publishers. It's time to talk about the transparency and holistic toolset that publishers need for success, because both sides benefit when ad-supported content thrives.
In this lecture, we'll be discussing:
A breakdown of the increasing complexity of publishing industry
Why holistic data strategies best prepare publishers for the industry's future
How publishers can gain increased data transparency
Actionable steps publishers can take to build a more sustainable ecosystem
Date: September 23, 2020
Time: 9:22 – 9:40pm CEST
Speaker:

Reach out to Events@DoubleVerify.com to connect with us.