Fostering Trust and Transparency Throughout the Ad Ecosystem
DV pioneered digital ad verification over a decade ago. Today, we authenticate media quality and power performance for the world's largest brands, platforms and publishers. We are driven by a singular purpose – to build a stronger, safer and more secure digital advertising ecosystem. Trust and transparency are core to this mission.
A recent report raised questions regarding independent campaign measurement on Google – specifically,  Google Video Partners (GVP) inventory. We believe it's important to demonstrate how we partner with Google to provide clarity and confidence to our advertiser customers, and also directly address some of the issues raised by the media around the quality of GVP supply.
DV Protection on Google's YouTube and Google Video Partners
DV provides advertisers with media quality solutions to authenticate their media buys on YouTube O&O. Our solutions span fraud, viewability, and brand safety and suitability. We offer pre-screen activation and campaign measurement across these quality dimensions, giving brands transparency and protection throughout the media transaction.
Additionally, DV measures fraud and viewability on media buys across Google Video Partners (GVP) inventory. Google video partners consist of publisher websites and mobile apps that effectively extend audience reach and scale of video campaigns beyond YouTube O&O.
The data below provides transparency into the relative volume and quality of traffic DV measured across YouTube O&O and GVP supply during the period January 1 to June 29, 2023.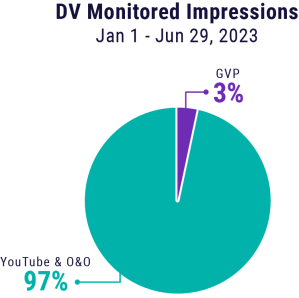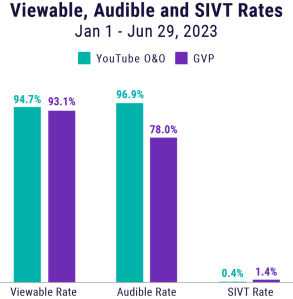 During the six-month period, DV monitored over 230 Billion impressions on YouTube and GVP – across a group of 100 customers in a dozen different market verticals. Although specific to our customer base of top-tier global advertisers, this is an unbiased data set that we believe represents a comprehensive sample. For DV measured campaigns, GVP inventory made up a relatively small proportion of total YouTube inventory (~3.1%). In addition, viewability based on IAB standards was largely commensurate across GVP and YouTube O&O supply. As a further comparison, open web benchmarks for DV-monitored video impressions during the same six-month period are as follows: 73% video viewable rate, 20% video audible rate, and 0.7% video SIVT rate.
How DV Measures Quality on YouTube and GVP
Our custom integration with YouTube enables DV to collect standard ad campaign event-level data through Google's data warehouse, Ads Data Hub (ADH). We leverage our proprietary Invalid Traffic (IVT) detection library and IAB industry standard definitions to detect fraud and measure viewability on YouTube O&O and GVP supply. Each record in our IVT library is individually QA-tested and analyzed to ensure accuracy and independent validation. DV then performs the data aggregation, media quality measurement and metric calculations, and reports results to our advertiser customers.
Current Limitations
DV is working with Google to design a solution that provides the same level of granularity in reporting brand safety and suitability for GVP as we offer for YouTube O&O. We are continuously working with our partners to expand coverage and provide DV customers with clear and consistent measurement of campaign quality and performance – across platforms and inventory sources.
Future Enhancements
DV and Google continue to partner together to develop innovative solutions that meet the evolving needs of advertisers. We are committed to exploring new ways to increase the transparency and confidence in GVP, and are actively working with Google on launching additional independent validation analysis of data collected from the ADH signals provided to DV by Google. We will update our customers as these updates become available.
If you have any questions about our measurement on YouTube O&O or GVP, feel free to reach out to your Account Manager or Sales@DoubleVerify.com.