Download An Overview About DoubleVerify
Emerging market disruptions across LATAM combined with today's rapidly evolving digital landscape have made driving and measuring digital ad outcomes increasingly difficult. Download our company overview to learn how DV can help improve the quality of your media investments, protect brand equity and drive campaign performance.
Please provide your business details to get our guide.
See What Our Customers Are Saying
Want to understand more about how DV helps improve the effectiveness of your digital campaigns? Listen firsthand from one of our clients, Cristina Mazariegos (Mexico and Central America Media Manager for Ferrero), as she explains the importance of working with DoubleVerify in order to protect their brand's online reputation and improve the quality of their media buys.
The Definitive Measure of Media Quality
The DV Authentic Ad™ is a proprietary, MRC-accredited metric that ensures media quality. To be counted as Authentic, an ad must be fully viewed, by a real person, in a brand suitable environment, within the intended geography. DV is the only company accredited to measure and de-duplicate ad quality in this manner — enabling brands to use the Authentic Ad™ count as a defining, holistic KPI for campaign effectiveness.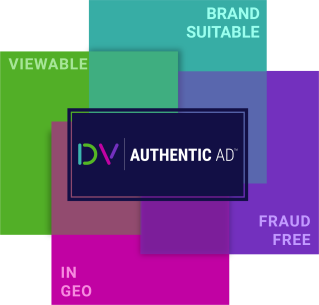 A New Paradigm for Digital Ad Effectiveness
DV Authentic Attention® is the first data solution in the market to provide near real-time, comprehensive data to drive campaign performance — from the impact of an ad's presentation to key dimensions of consumer engagement. This rich dataset enables granular attention measurement at scale. Click below to learn more about our solution!
Learn More
More Insights From Latin America
Please see our content below for more actionable insights and information pertaining to the LATAM region.