The digital landscape is rapidly evolving, and advertisers are feeling the pressure to keep up. Quarantine changed the way people consume content, increasing time spent on both social media and Connected TV. Privacy regulations and third-party cookie deprecation are creating new performance measurement uncertainties. And more now than ever, both brands and consumers are prioritizing sustainability and transparency.
As these challenges accelerate, advertising campaigns — and their measurement — become increasingly more complex. Advertisers have unique needs. And with economic uncertainty on the rise, every advertising dollar spent matters. Brands need a partner that is willing to stay ahead of the curve and provide consistent, streamlined protection across all campaigns, environments and device types. They must also be enabled to meet their goals within a privacy-friendly and sustainable infrastructure.
Below are just a few of the ways DV is committed to continuously innovating tools that empower customers to maximize media quality and drive performance.
The Definitive Measure of Media Quality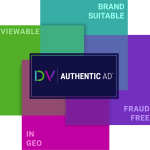 In order to ensure media quality, we created the DV Authentic Ad™ – a proprietary, MRC-accredited metric. To be counted as Authentic, an ad must be fully viewed, by a real person, in a brand suitable environment, within the intended geography. DV is the only company accredited to measure and de-duplicate ad quality in this manner — enabling brands to use the DV Authentic Ads™ as a defining, holistic KPI for campaign effectiveness. We believe that this foundation of quality is necessary before you even begin to speak about how to drive or improve performance.
Attention Measurement
DV's Authentic Attention® is the first MRC-accredited, privacy-friendly data solution in the market to provide timely, impression-level insights to optimize campaign performance without the use of third-party cookies. Advertisers are able to measure exposure and engagement by gathering critical data, such as time in-view, page real estate, hovers, quartile completions and user interaction.
DV is also the only measurement partner to provide free, high-level attention insights to verification clients with DV Authentic Attention® Snapshot. Snapshot targets top and bottom performers and gauges an ad's overall performance before diving into deeper and more granular insights in DV Authentic Attention®.
Brand Safety Tiers Align with GARM and 4A's APB Framework
In January 2021, DV became the first verification company to align with the 4A's Advertiser Protection Bureau (APB) and Global Alliance for Responsible Media (GARM) standards. In order to do so, DV developed a proprietary category taxonomy to provide coverage for the range of content that may pose a safety or suitability concern, in the spirit of the APB/GARM standards.
A Quick History of the APB's Brand Safety Floor and Suitability Framework
The APB first released a Brand Safety Floor and Suitability Framework in September 2018. This framework helps brands determine suitable content in two ways:
The brand safety floor describes content that is generally inappropriate for advertising and that most brands will want to avoid.
The brand suitability framework lays out three levels of risk and associated content for each category.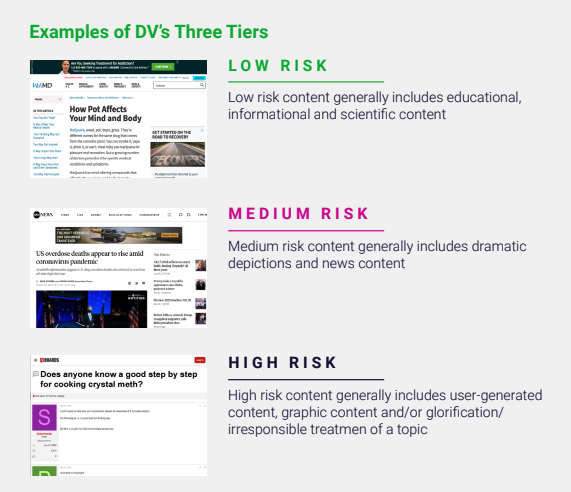 DV has worked closely with the APB and the newly established GARM to discuss, refine and update the brand safety and suitability proposal – ensuring that it continues meeting advertisers' evolving needs.
CTV Viewability
DV launched the industry's first scalable viewability measurement solution for CTV. This expansion of viewability enables advertisers to measure the delivery of the DV Authentic Ad™ on CTV.
Viewability measurement for CTV allows advertisers to make better-informed campaign optimizations and increase budget efficiencies by unlocking measurement parity across devices. This capability leverages the power of DV's enhanced Fully On-Screen solution and quartile measurement to determine whether an ad had the opportunity to be seen and make an impact based on the IAB's Viewability Standard.
MRC Accreditation on Facebook and Instagram
In 2020, the Media Rating Council (MRC) extended DV's accreditations to include DV's impression and viewability measurement (as defined by MRC's viewability standard) and reporting for display and video ads on Facebook and Instagram. This marked the first time a third-party solution has been accredited by the MRC for integrated viewable impression measurement on a large digital platform such as Facebook.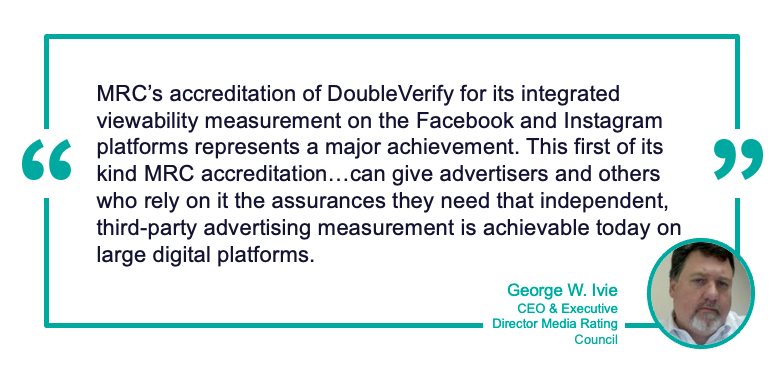 DV's third-party integrated measurement solution allows clients to see their media spend across all digital platforms and environments, and the MRC accreditation of DV's viewability solution with Facebook and Instagram marked an important move to increase transparency within the industry.
In-Feed Brand Safety Measurement on TikTok and Twitter
With advertisers demanding comprehensive brand safety and suitability solutions in user-generated content environments like TikTok and Twitter, DV was on the job. In January 2023, DV expanded its partnership with Twitter to offer in-feed brand safety and suitability measurement – enabling advertisers to objectively verify and analyze the quality of their U.S. based advertising campaigns.
And DV's partnership with TikTok allows advertisers on the platform to classify TikTok videos according to DV's brand safety floor and suitability categories, while aligning with standards from the 4A's Advertiser Protection Bureau (APB) and the Global Alliance for Responsible Media (GARM).
End-to-End Protection Throughout the Media Transaction
For programmatic advertisers that want to avoid inventory that doesn't meet their brand's standards and objectives, DV's Authentic Brand Suitability provides customized pre-bid brand safety protection that helps them avoid unsafe and unsuitable content before placing a bid.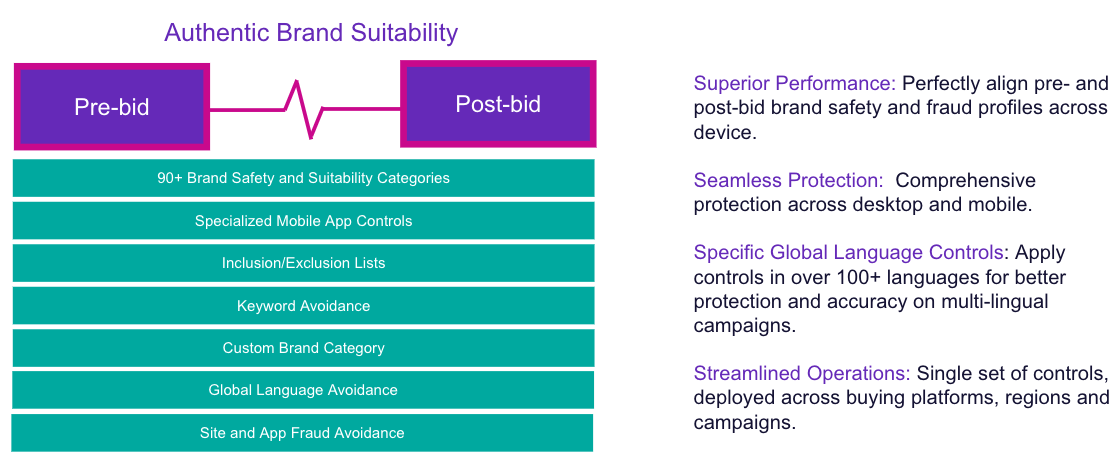 Unlike other pre-bid brand safety and suitablility solutions that offer a limited selection of avoidance categories for selection and the application of keyword blocklists, Authentic Brand Suitability captures the robust functionality of our post-bid solution in a pre-bid technology – allowing advertisers to reduce waste with customized protection to meet the unique brand safety and suitability needs of their brand.
In-Depth Mobile App Coverage
DV was the first measurement provider to facilitate independent identification of placement location for mobile app ads and provide a transparency report for mobile app campaigns.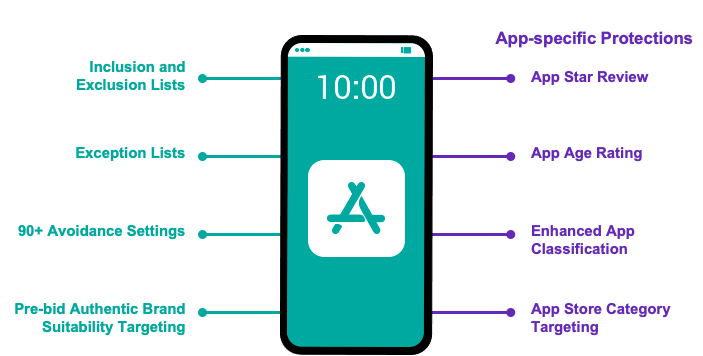 The DV Fraud Lab
The DV Fraud Lab performs ongoing detection and analysis of new types of digital ad fraud to uncover the latest schemes as they occur. Launched over a decade ago in Tel Aviv, Israel, DV's Fraud Lab consists of dedicated data scientists, mathematicians and analysts from the cyber fraud prevention community. Through constant analysis, scenario management and research, the team pinpoints the sites, apps and devices responsible for fraudulent activity — enabling real-time protection updates.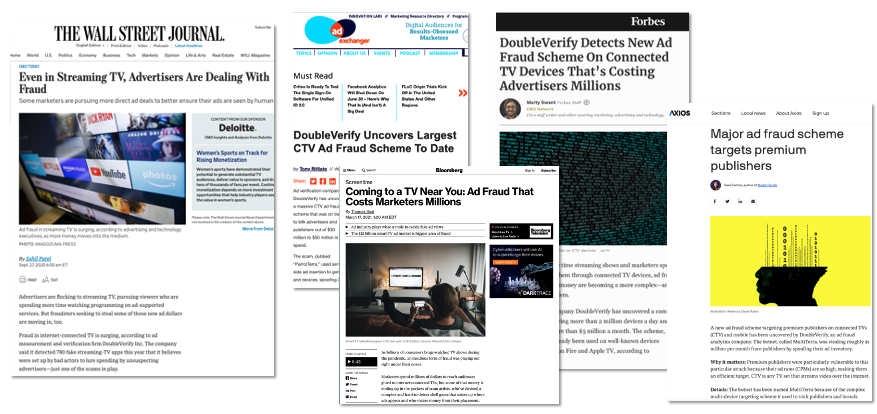 First-Of-Its-Kind Carbon Emissions Measurement Offering
In 2022, DV established an exclusive partnership with Scope3, the preeminent source of truth for supply chain emissions data for organizations seeking to make carbon-aware business decisions. This partnership provides agency and advertiser customers with a comprehensive campaign-based carbon footprint metric via DV's flagship service and analytics platform, DV Pinnacle®. This solution equips advertisers and agencies with the information they need to take action and drive real change. For the first time, they will be able to use this offering to measure and reduce the impact of their properties and ad spend, all via DV's massive verification backbone.
Fraud and Viewability Measurement on Netflix
When Netflix announced its ad-supported tier, DV's goal was to ensure that brands advertising on the service could serve video ads that are safe from fraud and invalid traffic ("IVT") and are fully viewable by real people. Now, advertisers on Netflix are able to use DV's verification technology for:
Fraud Protection: DV identifies and protects advertisers against fraud and IVT – from hijacked devices to bot manipulation.
Viewability Verification: DV provides comprehensive viewability verification, offering clarity into whether an ad has the opportunity to be seen and shedding light on its impact.
To learn more about innovations at DoubleVerify, visit doubleverify.com/innovations.